GestióIP is an automated, Web based IPv4/IPv6 address management (IPAM) software. It features powerful network discovery functions and offers search and filter functions for both networks and host, permitting Internet Search Engine equivalent expressions. This lets you find the information that administrators frequently need easily and quickly.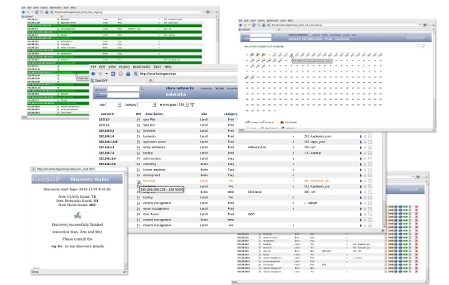 Main features
Data presentation
Web based Interface - no additional client software required
Easy usage and clear presentation of data
Powerful quick-search for both networks and hosts permitting Internet Search Engine equivalent expressions like "exact match" or -string_to_ignore
Advanced search
Automation
Network discovery via SNMP
Host discovery via ping/DNS/SNMP
VLAN discovery via SNMP
Infrastructure integration
HA solution available

Integration with Microsoft and Bind DNS server. More...

Support for secure dynamic DNS updates (GSS-TSIG) between Microsoft DNS or BIND DNS servers and GestióIP.

Customizable columns for networks and hosts
An incorporated VLAN management system
An incorporated management system for leased and dial-up lines
An incorporated management system for autonomous systems
Support for different clients with independent address spaces
Integrated tools
One-click ping and DNS A/PTR check
Shows free network ranges
Split/join/scaling up/scaling down networks (host entries can be maintained)
Integrated subnet calculator
Integrated hierarchical IPv6 addressing plan builder
More
Easy, script-based installation
Statistics
Full auditable
Full IPv4 and IPv6 support
DNS zone file generator for forward and reverses zones (supporting BIND and tinydns zone files)
Direct import of spreadsheets (networks and hosts)
Data export to CSV
Multilingual (Brasilian-Portugues, Catalan, Chinese (traditional and modern), Dutch, English, French, German, Italian, Russian)
Well documented
Commercial features and services
GestióIP is free software. To satisfy business needs, the project offers additional commercial features and services.
API
GestióIP's Application Programming Interface (API) defines functions which allow other applications to interact with GestióIP.
Configuration Management Module
GestióIP's Network Configuration Backup and Management Module offers a flexible and comfortable way to automatically backup and manage configurations of network devices like switches, routers, load balancer or firewalls.
read more